Beverages
Soda Vending Machines in Poplar Bluff
At Greenwall Vending we understand that happy/healthy employees are more productive employees and sometimes all someone needs to be happy is a cold, refreshing beverage.
At Greenwall Vending we train our staff to rotate all slow moving produce for new options, this keeps machines interesting to your employees and ensures fresh product is being vended each time.
And because we understand how pivotal a cold beverage can be in your employee's day we are proud to offer state of the art vending equipment that cools beverages while using less energy and vends more dependably.
For more information on Greenwall's beverage machines, including customizing your menu selections, our quick response time to all service calls, or subsidizing costs for an added employee benefit, call us today at (573) 429-0638 or email us at info@greenwallvending.com.
Our service area includes but not limited to: Poplar Bluff, Dexter, Cape Girardeau, Sikeston, Southeast Missouri, Northeast Arkansas, Farmington, Doniphan, New Madrid, Kennett, and Northeast Arkansas, Paragould, Arkansas and Jonesboro, Arkansas.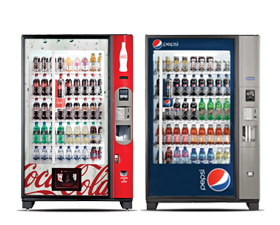 Hot Beverage
Vending Machine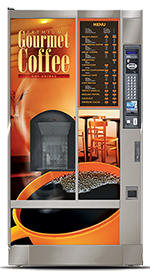 we have machine that deliver flavored coffee. cappuccino and tea in both 8oz and 12 oz cup size.