Snacks
Snack Vending Machines in Poplar Bluff
Your company is unique and so are your employees. Because we understand and appreciate that everyone's ideal snack is different, Greenwall Vending offers hundreds of brand name chips, cookies, candies, healthy options and meal alternatives for you and your employees to choose from.
Because we also know that too many options can be overwhelming, before our state of the art equipment in placed at your location, one of our team members can help you create a menu that best fits your company's needs. And as your driver stocks machines we'll rotate slow moving product for new options, helping keep product fresh and machines interesting for your employees.
Jaded by past experience where you paid for a product but never received it? Fearful that what is meant to be an employee benefit will become a source of frustration? With Greenwall Vending you don't need to be afraid anymore.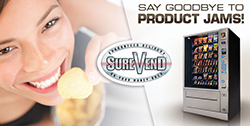 Why? Because all of our snack machines are equipped with SureVend technologies that ensure your employees and your customers either receive their snack or get their money back.
WE DELIVER
We provides fresh brand name products
We rotate all items to keep things fresh & interesting
We will customized selections besed on what the customer wants
We offer a variety of healthy options
Mobile App Service
Have product suggestions? We'd love to hear them and will do our best to bring them in as part of our stock. Just go to our Mobile Site and let us know what you are looking for!
If you're looking for a vendor who is focused on providing top quality services, quality equipment, and many unique products, call Greenwall Vending today at (573) 429-0638 or email us at info@greenwallvending.com.
Our service area includes but not limited to: Poplar Bluff, Dexter, Cape Girardeau, Sikeston, Southeast Missouri, Northeast Arkansas, Farmington, Doniphan, New Madrid, Kennett, and Northeast Arkansas, Paragould, Arkansas and Jonesboro, Arkansas.