Technology
Vending Machines in Poplar Bluff
Greenwall Vending has been in business for over 20 years but as much as we love to remember our past, we are far from stuck in it as we continually look for new ways to add convenience to our quality service through the use of technology.
So that when we say our machines are state of the art, you'll know we mean it, take a look at some of the ways we're using technology to our (and our customers') advantage.
Use Your Smartphone to Make a Purchase
We give new meaning to "swipe to pay." No more fiddling for change, ironing bills, or rubbing your card's magnetic stripe on your jeans. When in PayRange, or about arm's length from the machine, the App automatically connects to the machine and the user simply "swipes" on the smart phone to pay. No personal information is sent to the machine and credit card numbers are managed securely by a PCI compliant processor. We never see or store credit card numbers on our servers.
Pre-kitting Technology – With real-time inventory level tracking on our machines, we'll know exactly when to be there to refill your vending machines, so you'll never run the risk of being out of stock. We are also able to look at each individual machine and product assortment, and make recommendations and changes that are data-based.  Using this data pulled directly from our Vendsys computer system, we will continue to craft your product portfolio to include more healthy snacks, staff favorites and new items to try, all based on what your employees are actually buying!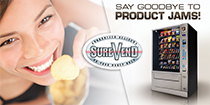 SureVend – Ever not received a snack and had your money taken from a vending machine? Those days are over with SureVend, an infrared technology that ensures you either receive the item you purchase or get your money back.
Wireless Technology – With our wireless capabilities we are able to determine what products in your machines are low before our driver ever leaves headquarters. This has two large benefits: one, we can guarantee your driver restocks the product you and your employees love most and two we can keep track of items that aren't as poplar, recommending new products in their place.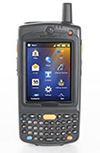 Mobile App Service – At Greenwall Vending we are very excited to announce the launch of our Mobile App, a web based app that allows our customers to quickly and easily contact us in the event of a service issue. Working in conjunction with a QR code sticker positioned on our machines, customers can simply scan the code with a smart phone and immediately visit our unique mobile enhanced website to report any service issues, request a new product or visit our website.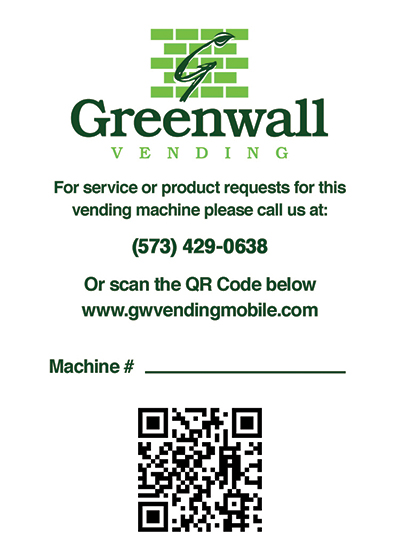 For more information on any of Greenwall Vending's services or the technology we use to guarantee customer satisfaction call us today at (573) 429-0638 or email us info@greenwallvending.com.
Our service area includes but not limited to: Poplar Bluff, Dexter, Cape Girardeau, Sikeston, Southeast Missouri, Northeast Arkansas, Farmington, Doniphan, New Madrid, Kennett, and Northeast Arkansas, Paragould, Arkansas and Jonesboro, Arkansas.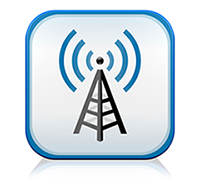 Cashless Vending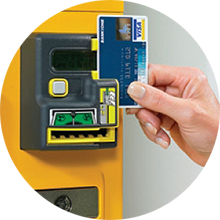 In a changing world, plastic is becoming more of a norm and paper a novelty. To meet customers where they're at we've begun adding debit/credit card acceptors to many of our machines. Ask your sales representative if your company/organization meets the prerequisites to have these installed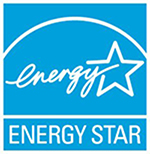 Our machines are smart and eco conscious. How? With the use of Energy Star technology which includes the use
of LED lighting, and cooling systems that keep drinks just as cool as standard machines but use half the energy.
Bill Recyclers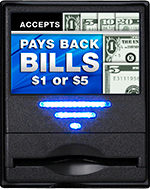 Want a granola bar but only have a $20 bill? Payment at Greenwall Vending machines is now easier than ever before. With our bill recyclers you can use your $20, get your granola bar AND get money back in large bills (i.e, $10, $5)